Mohs Surgery in Colorado Springs, CO
The Fellowship Difference
Dr. Matheson was the first fellowship-trained Mohs surgeon to begin practice in Colorado Springs. He underwent an intensive year of additional surgical training beyond dermatology residency to gain skills in skin cancer removal and facial reconstruction. He is a fellow of the American College of Mohs Surgery and is board certified in micrographic dermatologic surgery.
Downloads
Post-op Instructions
Several surgical and non-surgical techniques are used to treat skin cancer. Mohs Micrographic Surgery is a precise surgical method with a very high cure rate. Named in honor of Dr. Frederic Mohs who pioneered the concept, the technique involves a layer-by-layer excision of tissue around a cancer, with examination of 100% of the surgical margins.
The physician performing Mohs surgery acts as both the surgeon and pathologist, and performs the surgery under local anesthetic in the office. By removing the cancer in a series of thin layers, normal tissue surrounding the cancer is preserved, and scarring is reduced.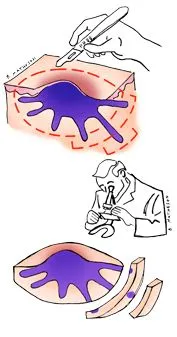 Mohs surgery has a high cure rate because the Mohs surgeon "maps out" the cancer and examines the entire surgical margin under the microscope for residual cancer cells. While the laboratory processing is taking place, the patient waits comfortably in the waiting room. If residual tumor is seen, the patient is brought back from the waiting room, and an additional thin layer of tissue is excised. The lab process is then repeated. This goes on until all margins are determined clear, and the patient is then brought back from the waiting room. The Mohs surgeon then evaluates the resultant wound, and decides the best way to repair the wound whether with sutures, a flap, or a skin graft. Some wounds are best left to heal in on their own, by Mother Nature. Most patients complete the entire process of cancer removal and repair of the wound in about four hours.

Tumors most appropriately treated with Mohs are basal cell carcinomas and squamous cell carcinomas of the face, especially those that are large, near scar tissue, or have failed treatment by other means. Whenever cancer occurs in an area where it is important to preserve healthy tissue, Mohs may be indicated.

Mohs surgery is not necessary for all skin cancers, but it is an advanced technique we are able to provide our patients when appropriate.

To learn more about Mohs Surgery and see if it is the right option for you, Call the Skin Cancer & Dermatology Center of Colorado Springs at (719) 574-0310 for a consultation, Today!